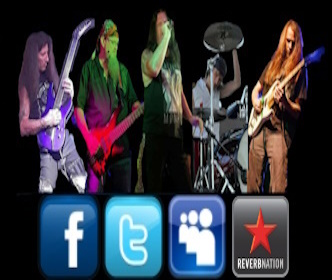 SHAME are an 80's-style hard rock, metal, five piece band which formed with one goal in mind: To put on a loud and fun show, playing the type of music that they love - Motley Crue, Guns N Roses, Cinderella, Skid Row, Slaughter, AC/DC, Ratt, L.A. Guns, Poison, Faster Pussycat, Def Leppard , Judas Priest,Ozzy, and a whole lot more!At a SHAME show you'll hear all the 80's metal and hair band favorites you've come to expect and plenty of songs that other bands just don't do.So come out and have a blast!

The band has been playing all over Ohio and PA for nearly a decade and has opened for several national acts as well.

On lead guitar is Darrel Bibler whose obvious Warren DiMartini and George Lynch influences can be heard in his flashy but ballsy guitar playing.

Jason Sapienza's gutsy vocals bring to mind Axl Rose (Guns N Roses), Tom Keifer (Cinderella) and a little bit of Mark Slaughter (Slaughter).

Michael Tudor is the other man on the axe, laying down the heavy riffs for SHAME's "twin" guitar attack.

Derek Scott is the man on bass, nailing down rock solid rhythms.

Joe Fusco is behind the drums pounding away.

New songs and shows being added all the time!

Hey everyone check out our schedule and see when we are playing in your area!

As always thanks for stopping by.


NEXT SHOW:

FRI October 12th 8:00PM
Ellwood City Moose
1400 Factory Ave.
Ellwood City, PA
724-758-9254
Attn. Club Owners: click here for general flyer/poster

(right-click on image w/ your mouse to 'save' to your computer)